We offer to provide Inspections Under SR2021 No 8: On-farm Anaerobic Digestion Facilities.
Under the UK EA's new SR2021 regulation all currently operating on-farm biogas plants will need to be inspected by a qualified and experienced engineer and may also require the involvement of a qualified structural engineer. This must be done before October 2022.
IPPTS Associates offers an SR2021 compliant inspection service.
In the sections which follow we explain our experience and why we consider that we have the necessary experience and qualifications to do this:
---
Over 25 Years of Experience in Treatment Works Process Design & Problem Solving
Steve Last BSc Civ Eng MICE MCIWM CEnv has over 25 years of experience in treatment works process design, commissioning, maintenance and operation, and many projects which involved solving groundwater and surface watercourse pollution problems.
Steve has designed, supervised (as project engineer) and commissioned groundwater pollution cleanups, and has solved problems with anaerobic digestion plant silage clamp leakage plus groundwater and surface water pollution.
In-Depth Knowledge of What Can Go Wrong at Anaerobic Digestion Facilities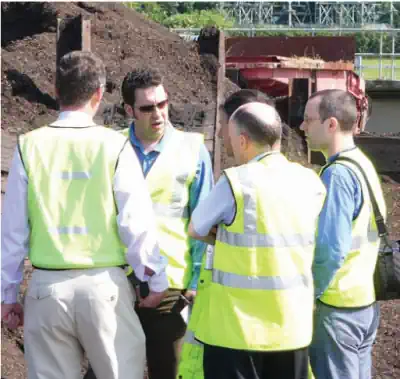 Involved in groundwater pollution from 1985 on, Steve has extensive experience in investigating groundwater and surface water pollution in order to define the source. Having conducted the necessary groundwater sampling and water quality analysis test investigation work he uses the data to solve the pollution problem.
Steve is used to maintaining close discussions with the EA throughout the identification of the cause and source of a pollution incident, designing and supervising remedial works, and on completion of work, demonstrating the success of the project to satisfy the EA's requirements.
This has involved water quality sampling programmes as necessary, with all data submitted to the EA to show that the client's facility no longer comprises a risk to the environment.
The service offer and service cost:
---
EA Requirement for Inspection Under SR2021 No 8: On-farm Anaerobic Digestion Facilities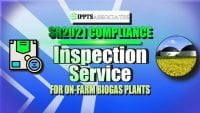 All works need to be certified to CIRIA standards so our engineer will inspect and certify that the works comply with all CIRIA requirements in a CQA report.
If any non-compliances are identified, further work may be required.
The cost of an SR2021 No 8: inspection of an On-farm single tank CSTR Biogas Plant, plus a compliance report comprising all that is required for submission of the report to the EA by October is £975 (inc. VAT) for all inspections ordered by 1 May 2022.
The above offer price assumes all information required is gathered during a 1-day site visit. Travel expenses will be charged at cost plus 10%.
Complete our contact form with details of your inspection requirements and we will reply with our consultancy offer.